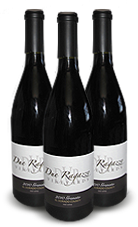 What started out as a misguided hobby from a self-taught enologist has evolved into an adventure for the whole family. Our two daughters have learned the value of hard work  by spending time in our vineyard weeding and harvesting.  These hours spent working next to their father, have given them a sense of accomplishment by creating a tangible product; something that is rare in today's American society. Over the years, the girls have also witnessed their father's obsession with weather forecasts at harvest time and have learned to appreciate Mother Nature's impact on a vintage.
We call our winery Due Ragazze because it roughly translates to "two little girls" in Italian. The Italian name was inspired by the Italian immigrants who came to California during the Gold Rush era and established some of the first commercial wineries in the El Dorado AVA (American Viticulture Area). These early pioneers were the first to recognize the region's climate, geography, and geology (what the French refer to as "terror") as ideal for grape growing and producing fantastic wines.

Jeff Bauman – Partner, Chief Operating Officer

Partner, Chief Operating Officer After spending over two decades entertaining clients for his real job, Jeff
has developed an appreciation for wines from all over the world. The more he studied the topic, the greater his passion grew for producing a wine he could call his own. In 2006, Jeff and his wife, Ada, moved their family to a property located in the El Dorado AVA that previously had a vineyard, but was torn out by the prior owners. Under the guidance of his neighbor Lance Johnson, Jeff and his family re-planted the vineyard and started their journey as wine growers.
Despite a few setbacks and an underestimation of the work it takes to produce agriculture, Jeff has developed an even greater appreciation for what it takes to produce a great bottle of wine.
Uncle Jack – Partner, Chief Wisdom Officer
Uncle Jack has always enjoyed wine, but he credits his time studying at the Culinary and Hospitality Institute of Chicago for turning him into a true oenophile. He began to understand the importance of what wines compliment certain menus and how a wine could enhance the flavor of a particular food. Uncle Jack's culinary experience has been essential for fulfilling our vision of crafting a food friendly bottle of wine. In addition to this, we rely on him to be the voice of reason for our daily operation.
Brandon Reitz – Winemaker
Brandon's winemaking experience and attention to detail makes him a key component to the success of Due Ragazze. In addition to overseeing our wine production, Brandon crafts award winning wines for our host winery, D'Artagnan Vineyards, and works full time producing high end wines at a custom crush facility in Napa. After attending Napa Valley College studying viticulture and enology, Brandon honed his skills working for renowned cult winemaker Mark Herold in the Napa Valley. The combination of his formal education and real life experience have allowed Brandon to develop his own technical and stylistic approach to making wine. In Brandon's own words: "Beginning with the decisions starting in the vineyard and moving to the cellar with processing and fermenting are essential in creating a finely crafted wine. I enjoy making wines stylistically symbolic of the vineyard and site expressing the people and place around me as each is unique in its own way." – Brandon Reitz